Put a wild card in the trolling spread and be ready to deal.

LIGHTEN UP: Different teasers have the same goal: to get fish like this blue marlin ready to eat
Photo: Richard Gibson/Hiseasphotography.com
A summer saturday found us on a weedline 12 miles off South Florida. Some dolphin were around, but boats were everywhere, and the fish were staying deep. How could we make our spread stand out? We deployed a StripTeaser dredge from each transom corner. The fish-decal strips undulated five feet down, looking like balled-up bait.
Within a half-hour, we had two dolphin in the dredges. I free-spooled a ballyhoo back and hooked a 15-pounder. Our fellow trollers continued to pull their cookie-cutter spreads, all without a strike.
The various types of teasers-dredges, fenders, pin teasers and spreader bars-bring new looks to a spread. They provide three advantages: One, they create distress vibrations that attract gamefish. Two, they add the exciting contrast of large and small fish mixed together. And three, they bring in fish for a closer look or maybe even a strike.
1. Dredge Up a Bite
Anglers who want to grab the attention of lockjawed gamefish should use a dredge, a subsurface teaser that pulls many baits or artificials behind weighted crossbars.
Fender Teaser
Photo: George Poveromo

Emulating bait schools, they produce vibrations that billfish can't resist. Dredges perform best between four and eight knots.

Position a dredge as far back and deep as you can and still see it. Put a flat-line trolling bait at the surface five to ten feet behind the dredge, and keep a pitch bait ready, too. If a billfish shows, "swim" the pitch bait back to it, or reel the flat-line bait ahead of the fish, then free-spool it back like an injured bait floating away from the dredge-an easy meal for a predator.

Don't pigeonhole dredges as a trolling aid for billfish-as I said, I use them for dolphin, too. And recently I've put them out when drifting livies for sailfish and kings: The sight of a bait ball under the boat never hurts.

2. Fun with Fenders
It's hard to beat a fender teaser for blue marlin. These big teasers are made from air-filled boat bumpers rigged with a pound of lead. They swim erratically from five to 15 feet down. Fish come in focused on the fender but often switch to the surface baits in short order.

"The fender tracks best when it's about three-quarters full of air," says Frank Johnson, a big-game authority and owner of Mold Craft Lures, which sells fender teasers.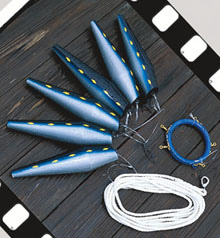 Pin teaser
Photo: George Poveromo

"Too much air prevents it from going under." Johnson trolls between five and ten knots and puts surface trolling lures in front and behind a deep-running fender.

"It shouldn't spook a fish that's beating on it," he says. "Just hope the marlin doesn't eat the fender and break the line, which can happen."

3. Bowl a Strike
If one big teaser draws attention, then a few will crank up the action. When he's fishing for blue marlin, Albert Castro and his team on Sharky's Revenge swear by a daisy chain of six pin teasers. Run from 20 to 40 feet back, the pins look like bonito. When a blue shows up, the mate yanks the teaser away, and the angler drops back a hook bait.

"Since we have to pull the teaser away from the fish, we tie knots in the nylon handline section every two feet," says Castro. "They provide a solid grip." The rope has a No. 1 stainless snap, which then attaches to 25 feet of 300-pound mono with three-way swivels every four feet. Each pin has a dropper tipped with a swivel that snaps to the main line.

4. Quite a Spread
Captain Damon Sacco believes in spreader bars so much that some days he uses them exclusively. When he searches for tuna off Cape Cod, he deploys five spreader bars in a "crooked X" pattern from 25 to 70 feet back.

"Don't run them far back or they'll dig in the water, which scrubs off action," Sacco says. He sets his speed by tuna type: bluefin get four knots; bigeye or yellowfin, six or more. He rigs bars with pink squid and a contrasting, trailing hook bait.

Designed to look like competing predators or prey worth chasing, various teasers can incite even spooky fish to feed when used creatively.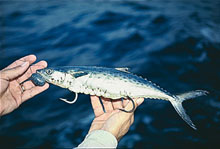 TAKE A BITE: Tease down deep with a Spanish.
Photo: George Poveromo
The Natural
This teaser has some teeth.
When offshore trolling for dolphin is tough, I sometimes send a Spanish mackerel 80 to 100 feet deep on a heavy outfit with a 32-ounce trolling weight or off a downrigger. The pulsating action draws in gamefish. Or go one better: Rig that Spanish with a wire leader, two hooks and a 12-ounce egg sinker under its chin-in case it gets eaten. It's not technically a teaser, but we've landed many a nice wahoo and dolphin off that bait. - G.P.