Get the most out of your electronics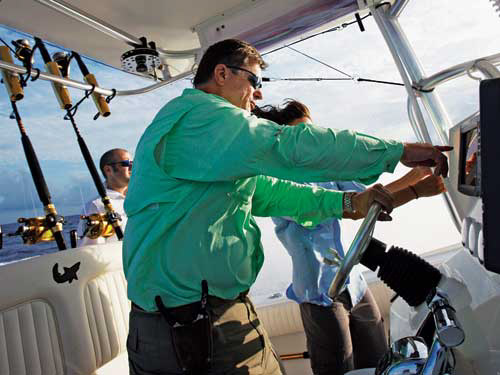 Serious salt water anglers are always seeking an edge when it comes to catching fish, and modern marine electronics have certainly made it easier for us to at least find them.
There are countless features offered by modern radars, fish finders, GPS and electronic chart systems. So much so, I'm astounded by how much navigation and fish-finding technology can be incorporated into today's small- and mid-size boats. Reaching far-away destinations has never been so precise or safe, and it's certainly not as easy for game fish to sneak under the radar, so to speak.
Despite the full capabilities of my electronics package on my 28-foot center console, I rely immensely on four basic features when I head to sea. I've learned to really fine-tune and read these features, and I'm able to consistently locate fish and even save fuel in the process. Listed below are the four items I can't fish without, plus a look at how I dial them in to find action aboard the MARC VI.
Radar
Radar is first and foremost a major safety addition, and I've relied on mine numerous times while running at night and to navigate safely around and through bad summer thunderstorms.
However, even on those bright, bluebird days, if I'm offshore trolling, my radar is on and helping me look for birds. Once a luxury on big sport-fishing boats, powerful radars and fairly large open-array antennas are now common on small- and mid-size boats. I have a 4 kW unit with a 5-foot open-array antenna (1.7-degree horizontal beam width and 25-degree vertical beam width). Keep in mind that open-array antennas — compared to closed, dome systems — are more conducive to bird spotting.
Plotters
I love it when a South Florida dolphin angler tells me how he trolled south nearly all day, covered a ton of ground and didn't do well. Off South Florida, for instance, many anglers troll in a southerly fashion to keep the northbound Gulf Stream from sweeping them far above their home inlet, creating a long run home. However, if a boat trolls around 5 or 6 knots directly or nearly directly into the Gulf Stream, which flows between 2 and 5 knots on average, they're not covering a lot of ground, like they suspected — just water! This is somewhat similar to the Loop Current in the Gulf and the mid-Atlantic and Northeast eddies.
When I'm on the troll, I activate my plotter and its track feature, which shows the boat's precise position on a bottom chart and its path. This way, I know just how much ground I'm actually covering and my exact whereabouts when working along a contour line, major structure, hump, depression or ledge. In addition, when a significant surface-temperature break is noted or we get a strike or catch a quality fish, I'll mark that spot and spend time working the vicinity.
As for covering both ground and water in a strong current, such as the Gulf Stream, I often troll a broad, zigzag, shallow-to-deep pattern rather than moving directly into or with the current.
Also, when bottom fishing, we can quickly determine if there's a current by zooming in on the plotter and watching for movement. If there's no current, it saves us the chore of dropping the anchor.
Zoom Feature
When bottom fishing in particular, I'll split the screen on my fish finder: One side shows the full depth range, the other just the last 20 feet of the water column.
This zoom feature expands the view of the bottom, providing a clear, concise image of the structure as well as any bait or game-fish concentrations. If the bottom appears devoid of life despite how good the structure might appear, I'll move either deeper or shallower along that reef or to another reef. Over wrecks, we'll have a sharp view of the structure as well as the sections holding bait and game fish.
The full-view side of the screen will uncover any bait or pelagics in the mid to upper water column, equally important when trolling or drifting along the reefs and over deep, offshore structure. Furthermore, you can detect the thermocline, an important consideration when drifting baits for swordfish, sharks and even tuna.
Electronic Charts
Offshore anglers are a structure-oriented bunch. We're always searching for "suspended" structure, which includes weed lines, floating debris, rips, significant water-surface temperature breaks and prominent bottom structure, such as deep depth contours, dramatic drop-offs, seamounts and wrecks.
While "suspended" structure requires our eyes to identify, there are premium versions of electronic charts which explicitly show in great detail the bottom make-up of a specific area or region. This includes highly detailed contour lines as well as major structure and even some wrecks.

These charts take the guesswork out of locating potentially productive zones to fish and are extremely helpful when visiting destinations where you don't have a lot of local knowledge.
If I'm heading out to troll offshore, for example, I'll study the chart to see where specific deep-fathom curves run closest together. I'll then place the cursor on that spot, cruise to the area and begin trolling. These tight contour lines reveal a quickly descending bottom as opposed to a gradual bottom decline (shown by contour lines that are farther apart from each other). Should a strong current wash over these zones, upwellings and concentrations of bait could yield good fishing.
In time, you will actually have a "circuit" of bottom structure that you can systematically target based on tide, current and conditions.
And when you're at these spots, don't forget to activate your plotter's track feature, study that fish finder and keep an eye on the radar for birds. Locating fish certainly doesn't get any easier!