Deep jigging is making a comeback for one good reason: It will help you catch more fish anywhere in the coastal U.S.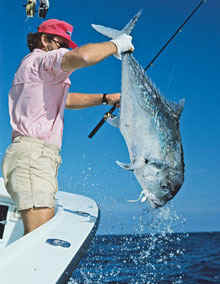 Deep-jigging gear depends on your taret species. African pompano and other jacks call for high capacity reels and rods with backbone.
Part art form, part fishing tactic, deep jigging is back in style. A popular technique used off South Florida and the Bahamas during the 1970s and early '80s, deep jigging targets both husky bottom fish — amberjack, grouper and mutton snapper — and pelagics like kingfish and Spanish and cero mackerel.
Because of declining fish stocks, however, deep jigging's popularity began to fade in the mid '80s and had become pretty much a lost art by the '90s. During this period of large-scale commercial netting and widespread use of fish traps, most anglers didn't want to waste time using a technique that was better suited for fish that were plentiful rather than widely scattered.
Fortunately, due to major conservation efforts and the leadership of the Coastal Conservation Association of Florida, the nets and fish traps were ultimately banned in Florida waters, and both bait and gamefish stocks began rebounding. Today, deep jigging is enjoying a resurgence off South Florida.
Rig for the Jig
The right deep-jigging outfit hinges largely on the species you are targeting. When probing the ocean floor for grouper, snapper, African pompano or amberjack, look for a baitcasting or conventional-style reel with the capacity and durability to handle lines up to 25-pound-test, and a rod with enough backbone to muscle these fish off wrecks or reefs. Anything less and you'll be in for an embarrassingly quick defeat.
For mid-water pelagics, you can get away with lighter tackle. When targeting bottom fish, I normally use a large baitcasting-style reel with a capacity of at least 250 yards of 20-pound-test line, such as a Penn International 975 baitcaster or similar class of reel, and a seven-foot, 25- to 30-pound-class rod. For very large bottom fish in deep water or on structure, a larger capacity reel and a heavier rod is necessary. In this situation, it's common to use 4/0 size reels spooled with 30- to 50-pound-test lines and rods rated between 30- and 50-pound test.
For kingfish, mackerel, jack crevalle and barracuda, line capacity becomes more important than rod strength. I use a reel that holds at least 250 yards of 12-pound test, and a 15- to 20-pound-class rod. Since these fish sprint out, away from the boat, rather than straight for the bottom, there's less need to go toe-to-toe with them on the strike.
Close Contact
Fishing lines can help telegraph subtle bumps or strikes — a big advantage in deep-jigging situations. These lines include fluorocarbon, fluorocarbon-nylon composite lines and super braids. Fluorocarbon and fluorocarbon-nylon composite lines are stiffer than nylon monofilament. These fluorocarbon lines and super braids generally have smaller diameters than monofilament lines of the same breaking strength, so they sink faster. These lines have superior abrasion resistance and little or no stretch — all the better to help the angler to feel the jig and plant the hook solidly.
Pure monofilament lines are still popular because of their inherent stretch. Anglers can benefit from the stretch factor, which can provide a cushion that results in fewer pulled hooks or broken lines. Line selection comes down to angler preference.
Pick Your Jig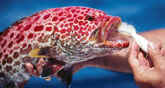 Jigging up grouper, like this yellowfin, is primetime sport.

As with your rod and reel, choosing the most effective deep jig also depends on the target species. There are two primary styles of deep jigs. The arrow is compact and streamlined, while the pilchard is elongated lead with compressed sides.

The major difference between the two designs and their respective offshoots is that the arrow design sinks straight and rapidly and has a straight up-and-down action when jigged. By comparison, the pilchard design sinks more slowly and has an inherent wobble action.

For bottom fish, and when the current isn't too overbearing, I favor the pilchard jig. To work just the lower reaches of the water column I let the jig hit bottom, hop it two or three times, free-spool it back to the bottom, and then repeat the process until the angle of the fishing line becomes too steep. At that point, I reel in and re-drop the jig.

For kingfish, mackerel and other mid-water pelagics, I prefer an arrow jig. If there is any activity marked on the fishfinder, I drop the jig in this area and begin a rapid retrieve to the surface, highlighted by sharp sweeps of the rod. Take two or three turns on the reel, quickly whip the rod up and instantly lower it to let the jig fall. Then take two or three more turns on the reel and repeat the tactic all the way to the surface. As the jig falls, I wind quickly to keep up with it. By minimizing slack in the line, I remain in touch with the jig.

Tips Please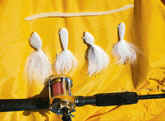 Arrow (left) and pilchard jigs (right) have different actions.

Tipping a jig enhances its profile and action. Purists avoid tipping with natural baits and opt for plastic bass worms in white or glow hues. When jigged, these trailers pulsate and add to the lure's action and visual appeal. However, tipping a jig with a fresh bait isn't a bad idea either. In fact, on some days that's the only way to get a strike. This is especially true with bottom fish. I've had great success tipping deep jigs with small to medium ballyhoo. I'll run the jig hook under the ballyhoo's lower jaw and out its upper jaw, and drop it down. With natural bait-tipped jigs, the angler relies on the offering's scent, so the best approach is to use slower, shorter hops along the bottom, and periodically let the bait rest on the ocean floor.

Go Deep
Jigging far down is a good approach wherever fish are concentrated in one area. This even includes running and gunning for dolphin and dropping a jig down alongside a board or weedline where wahoo are often a surprise catch.

Keep in mind that deep jigging is not just a Florida tactic. This identical technique works most places along the coastal states: Snapper and amberjack on oil rigs in the Gulf of Mexico and other structure; cobia and sea bass along the coastlines of Georgia, the Carolinas and Virginia; cod and pollock off New England; and yellowtail off the coast of Southern California.

Once you try it, you'll be doing the jig, too.