It was a "quick change", which enabled Carl Grassi and me to convert a "trio" of amberjack into "catches" (and "releases"). We were drifting and fishing relatively small jigs and bucktails for groupers, and whatever else was hungry on those Abaco, Bahamas, reefs. In around 130 feet, a respectable "hump" appeared on the fishfinder, along with a few large fish markings; these obviously weren't groupers or yellowtails. We took note, and repositioned ourselves for another drift.
During the transition, I went into my tackle bag, opened a plastic compartment, selected a five-ounce Williamson Benthos Jig and replaced the lead-head jig and ballyhoo combo I had been using – in less than a couple minutes. Carl repositioned the boat, and we both proceeded to drop down (he was already using a lighter flutter-style jig) and enjoy a flurry with those amberjacks. I'm reasonably sure those 'jacks would have engulfed my ballyhoo-tipped jig - had I worked it radically enough, but I wanted the best odds of rapidly getting down near bottom and producing an erratic, darting- and pulsating action – and a heavier flutter-style jig delivered just that.
The point here: my ability to quickly access my lure of choice and put it into service when fish suddenly appeared is the direct result of having my tackle boxes organized. When a quality fish or situation arises that requires a tackle modification to score, loss of time and confusion over locating that "right" lure, hook, sinker, swivel, etc. have a steep price – a missed opportunity. Many times, anglers need to react to a tackle change as rapidly as an Indy 500 pit crew servicing their race car. And in the fishing world, that "quickness and efficiency" depends upon how well those tackle trays are organized.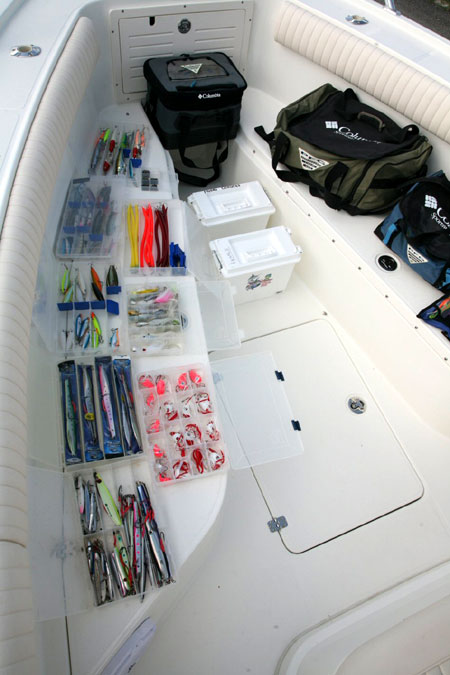 DIVIDE AND CONQUER
To promote efficiency, I divide my tackle bags/trays according to the type of fishing I plan on doing. That is, I have a few active "offshore" bags, a few "reef/nearshore" bags and a few "inshore" bags. So, if I'm heading offshore, the "offshore" and "reef" collections come aboard (the "reef" bag is just in case we opt to hit the reefs on the way back in, to jig for amberjack, or drift live baits for blackfin tuna, sailfish and kingfish). And, conversely, my "inshore" collections are just that – items which cover the inlets through the backcountry.
The division goes much deeper than that. Within each tackle bag are several plastic tackle trays, with specific items categorized by size, actions and even intended species. Take my jigging trays, for example. I have a few which are broken down into "bucktails", "conventional deep jigs", and "flutter-style" jigs. Like when Carl Grassi and I got into those amberjack, I simply opened my "reef" bag, took out the tray with the larger flutter-style irons and quickly selected my Benthos Jig. There was no searching the different bags, wondering where that specific tray might be, or fumbling through a mix of various styles and sizes of both conventional and flutter style jigs, to find one that is the right weight, style and color. Everything was straight up, and I had fast and easy access to the specific weight and color jig I thought would catch those fish.
Taking the jigging tray example even further, I have isolated the "casting" sizes of both bucktails and flutter-style jigs into separate boxes. Therefore, should Spanish or Cero mackerel pop up on the reefs, or blackfins and school dolphin offshore, I can easily access these boxes and decide on either bucktails (specific sizes ranging from 1/16- through 3-ounces, and colors including white, yellow, white/red head, etc. are within this box) or flutter-style jigs (the small, casting ones, such as the Williamson Gyro Jigs, ranging from 11/16- through 2-1/4-ounces). Again, no rummaging through an assortment of sizes and styles to find the "right one".
When not on the boat, these bags are neatly stored in my tackle garage, where they're readily accessible. And this enables me to "mix and match" certain trays for the fishing I plan on doing next. For example, if we plan to chum up tuna with live baits and catch them on top water lures, I'll make sure to pack my top water and sinking lure trays into my "offshore" bag, and leave the trays with the offshore trolling bait rigging gear and other related items we won't be needing behind. The ability to build up specific boxes for any specialty fishing is really a neat deal.
INSHORE, IN-LINE
The categorizing follows through for my inshore lures. For example, I maintain individual trays for top-water, sinking, and swimming baits, and also for soft baits. Should I desire a top water lure to pitch at sea trout, snook or tarpon, I retrieve my "top water" tray, which contains a few sizes and color choices of Rapala Skitter Walks, Skitter Pops and similar style lures. My "sinking" trays contain weighted hard baits, like X-Rap Subwalks, Glidin' Raps, and Rattlin' Rapalas, whereas the "swimming" tray contains lipped shallow- and deep-diving lures. The soft plastics trays reveal various sizes and hues of shrimp, crabs, and minnow-style bodies. Again, the goal is quick and easy access to the "right" lures for any situation.
It's the same with small terminal items, such as swivels, which are categorized by barrel swivels, three-way swivels and trolling snap swivels in various sizes and strengths. There are also trays specifically for kite fishing terminal items - such as rubber bands, floats, ceramic rings, release clips, rubber core sinkers, balloons, etc., and offshore rigging – needles, floss, assorted sleeves, thimbles, crimpers, small sinkers, etc.
WHERE'S THE HOOK? – Aboard my boat, the "hook" trays are the most "accessed", and understandably so. Given the live- and dead-baiting we'll do for anything from sea trout to swordfish, one can imagine the range of hook variations to cover that span. When rigging trolling baits such as ballyhoo, mullet, mackerel and squid, I have trays with nothing but O'Shaunessy-style hooks in various strengths and sizes along with several specialty trolling-style hooks, of which I can easily review and select the best one for whatever it is I am rigging at the time.
The live-bait style hooks are categorized in "Circle Hook" trays. These are all in-line circle hooks in various strengths from 1/0 through 16/0. What's more, the smaller and lighter wire hooks are confined to one tray, which we'll use for sea trout on up to sailfish, whereas the heavier wire and larger circle hooks -kept in a separate tray - are designated for big grouper on up to yellowfin tuna and sharks. There are also individual trays for J-hooks.
When we anchor up on the reefs and chum, I'll remove the trays with the small circle hooks (for yellowtail, muttons, mackerel and kingfish) and also the small bucktails and flutter-style jigs, since this is what we'll also be using for the mackerel, amberjack and Horse-eye jacks. I'll keep the trays either on or near the console, where we can all work out of them. Before we leave, the trays are returned to their respective tackle bags.
THE OFFSHORE FELLAS'
Offshore trolling lures, while not kept in plastic tackle trays, are also categorized based on size and species sought. They are assigned to lure bags. For example, if we desire to mix some lures into our spread for dolphin, I'll fetch a lure bag containing small, flat-, blunt-, and concave-headed lures rigged on leaders ranging from 50-pound test to 130-pound test. Conversely, if we see blackfins or yellowfins, there's another soft lure bag with small bullet- and jet-head style lures rigged on 30- to 80-pound test fluorocarbon. And, of course, we have individual bags with larger, marlin lures, and also wahoo lures.
"CONTAINER" CARL
Friend Carl Grassi is not only a good angler, but highly meticioulous when it comes to storing his tackle. In fact, I recently learned something beneficial from him. Rather than keep his accessory items, such as knives, leaders, boat parts, etc. on his vessel, he puts them into plastic carry boxes. This way, if he needs filet knives back at the dock, there's no rummage through his boat to find them. He merely goes into his console and retrieves his designated knife box. In here, you'll find several knives, sharpening stone and even freezer bags for his filets. What's neat is that he can wash and dry and oil down these knives before they're packed away, keeping all clean and rust free.
I've also gone this route with my knives, spools of leader material, and spare parts (fuel filters, hoses, etc. for those Bahamas crossings). It takes just a tad longer to add and remove these containers from the boat, but the advantages include easy access (on the boat and also in your garage), less exposure to a saltwater environment and the elements, and theft if kept permanently on board.
If you're already taking care of your tackle in this fashion, go to the head of the class; you'll be able to concentrate more on catching fish when you're on the water. If your tackle organization program is running a little behind par, remember this article during the next rainy/windy weekend; It will give you plenty to do and something to even curse over if your tackle is really disorganized. But once completed, there'll be a big difference in your efficiency the next time you set forth. And being efficient and prepared are two classic traits of successful anglers worldwide.