---
JL AUDIO SUBWOOFERS – The MARC VI has three JL Audio model M10IB5-SG-TB subwoofers. These subwoofer drivers are engineered to withstand the rigors of marine use and deliver the kind of bass that has made JL Audio famous in the automotive sound arena. This bass will not only impress you with its sheer level, but also its smoothness, balance and precision. Equally impressive, especially for center console owners, is that the M10IB5-SG-TB is optimized for infinite-baffle operation so that it can be installed in a variety of locations, without the need for a dedicated enclosure.

JL AUDIO AMPLIFIERS – One M700/5 – a 700 watt, five-channel full range amplifier which drives all six of the M770-CCX-SG-TB speakers, and one M800/8 – an 800 watt mono-block subwoofer amplifier, round out the system. The JL Audio M-Series amplifiers are amazingly small in size and the perfect solution for space-conscious installations. Furthermore, JL Audio's exclusive NexD switching technology achieves total amplifier efficiencies exceeding 80%; this means far less heat and strain on your vessel's electrical system, compared to a large, conventional amplifier. This efficiency advantage, combined with state-of-the-art microelectronic components, allows JL Audio to use very compact unitary cast alloy heat sinks. As with their more expensive MHD siblings, the M-Series also deploy the company's Advanced Thermal Rollback System, to completely eliminate annoying thermal shut-down events.
Behind every M-Series amplifier's removable control cover, you will find studio-grade signal processing with fully variable crossover filters. Also included are noise-killing, differential inputs with remote level control capabilities via the HD-RLC remote level control (optional).

The volume, crispness and clarity of this system are concert-like, particularly when "cranked up"! There is no distortion, just sharp and clear audio that will rival the best home-based sound systems. JL Audio wanted the new MARC VI to "make a statement" with its sound system, and it does exactly that. It has to be heard to really be appreciated!

To insure there's enough power for all these electronics, the MARC VI has five batteries. Four are mounted within the console firewall, with the fifth battery mounted to the inside console floor. Inside the console, you'll find the circuit breaker panel, a sink, and six feet of head room. An ACR GlobalFix 406 EPIRB with Integral GPS is also located here, within easy reach, as is a fire extinguisher. Blue diffused LED lighting illuminates the console at night.
---
LIT UP AND READY TO RUN – An ACR halogen light on the forward T-top guides the MARC VI at night, whereas integrated forward and aft LED T-top spreader lights can brighten up the entire cockpit whenever needed. In lieu of a fluorescent T-top light, the MARC VI has diffused, LED lighting.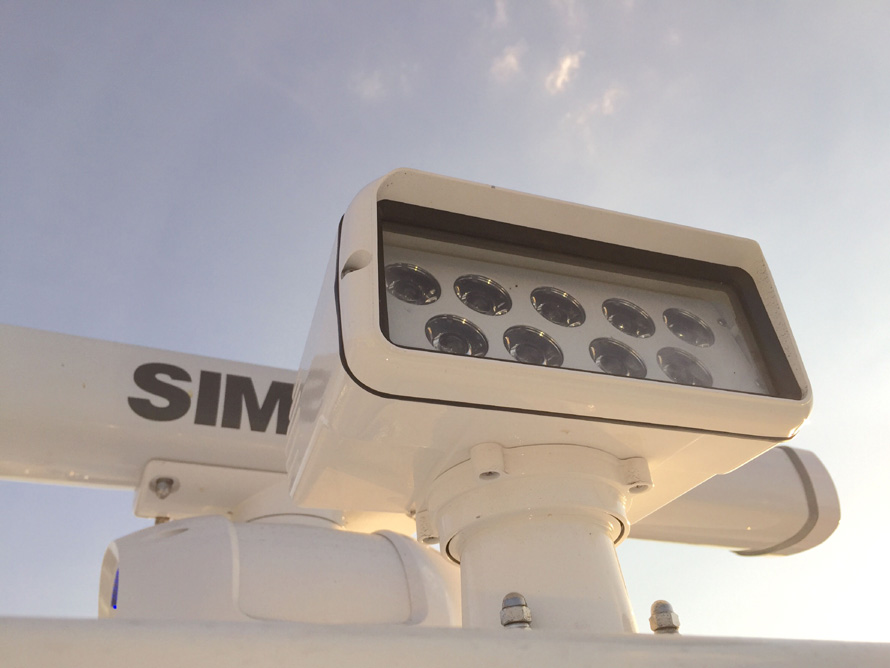 ---
SHADOW CASTER MARINE LEDS - The boat also has blue, diffused LED lighting along the console's base, the lower gunwales of the boat, inside deck hatches and fish boxes, and within the console. Shadow Caster Marine LED lights illuminate from underneath the gunwales in blue, green, red or white, or a combination of these colors.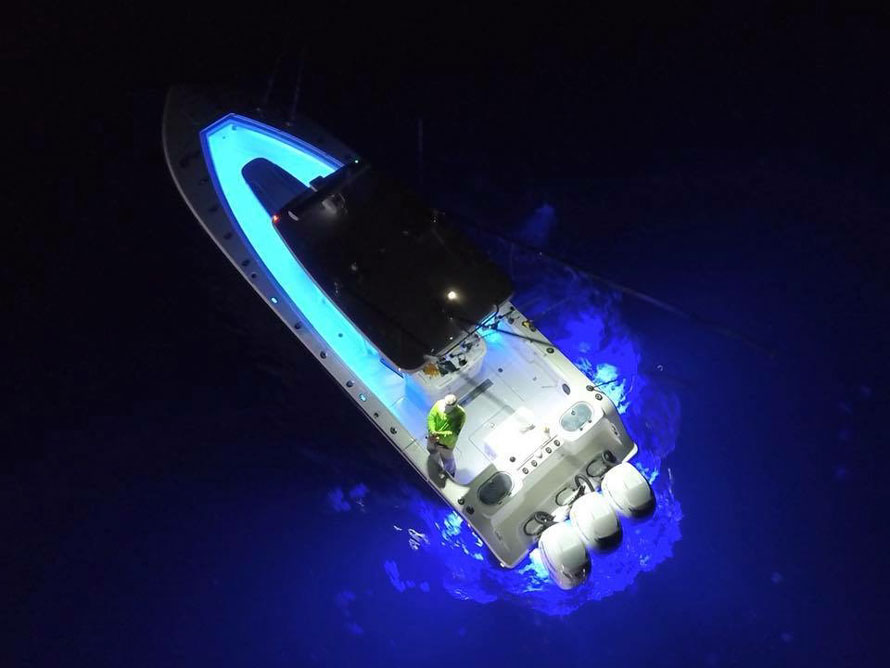 ---
The MARC VI was outfitted with eight Shadow Caster Marine LED lights (six 6"units on the transom, and two 6" units affixed to both the aft port and starboard sides of the vessel), with "Bimini Blue" the main color theme. Each of the eight Model SCM-6 LEDs provides a light spread angle of 120-degrees and a lamp life expectancy of 40,000 hours; they operate at 94% efficiency while drawing a mere 2.1 amps at 12 volts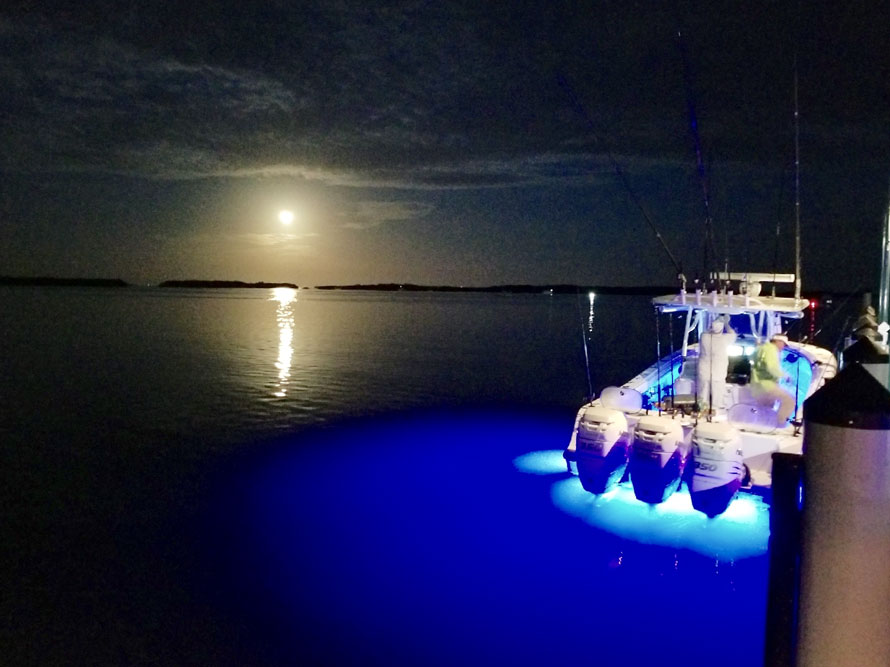 ---
The MARC VI's Shadow Casters utilize the company's SCM-PD-PLUS Power Distribution Box, which distributes power and individually merges multiple Shadow Caster underwater lights. This enables the boat to broadcast one of five colors, or to rotate them. The colors are Ultra Blue, Great White, Aqua Green, Cool Red, and Bimini Blue. The compact and sleek lights are framed in chrome and lend a sharp look to the boat, especially when it's on the trailer.
---
Shadow Caster's Integrated Lighting Control system can now be integrated with Simrad electronics. The advantage here is that the lighting can now be displayed and controlled on Simrad screens.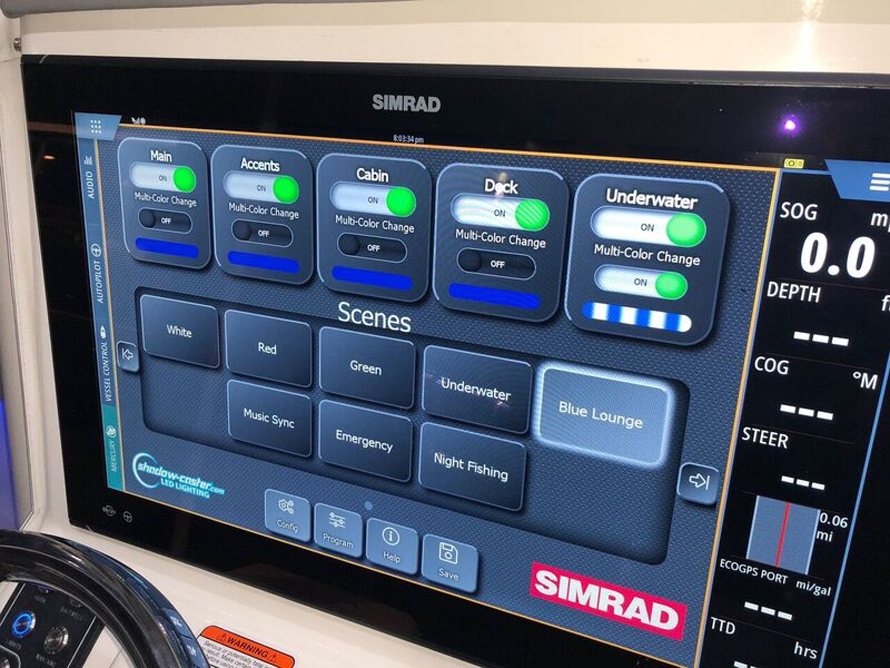 ---
SAFETY AT SEA – The MARC VI relies exclusively on ACR for its safety electronics. Mounted just inside the console door and within quick and easy reach is an ACR GlobalFix PRO with internal GPS EPIRB (Emergency Position Indicating Radio Beacon). When activated manually or automatically (submerged), the GlobalFix PRO broadcasts a unique registered distress signal that not only tells rescuers where you are, but who you are.

Upon activation, the unit's internal GPS automatically turns on and acquires the boat's position. It then utilizes a powerful 406MHz signal to relay the distress call to orbiting satellites, which, in turn, broadcast the information and boat's GPS position to local search and rescue teams. These rescue teams will also rely on a separate homing signal from the unit and an integrated LED strobe light to reach the boat's exact location.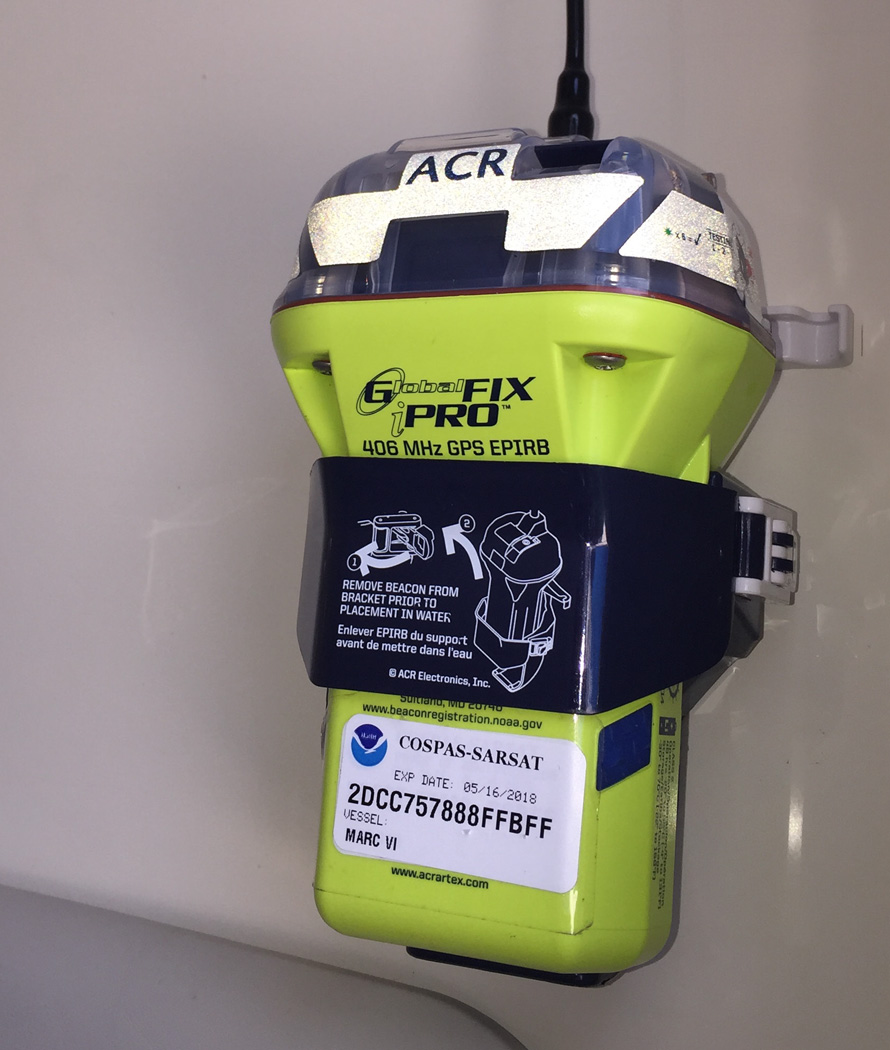 ---
Also on board are several ACR ResQLink Personal Locator Beacons. Should the MARC VI run at night or in extremely rough seas, each crew member is assigned one – in the event a crew member, for whatever reason, exits the boat. With three levels of integrated signal technology: GPS positioning, 406 MHz signal, and 121.5 MHz homing capability, the individual's position will be quickly and accurately relayed to a network of search and rescue satellites, and then down to local search and rescue teams; rescue accuracy is within 100 meters or less. To activate, the PLB's antenna must be deployed and aimed skyward and the unit turned on.

Note that an EPIRB has an activated life-expectancy of around 48 hours, whereas a Personal Locator Beacon (PLB) has an activated life-expectancy of around 24 hours.
---
The new MARC VI is also equipped with an ACR AISLink Class B Automatic Identification System (AIS) Transceiver. This ensures that when visibility is poor, or during the evening, the MARC VI can be seen by other vessels with AIS, and Poveromo can see other vessels in his waters with AIS in real time – and on his electronic chart or radar.
---
LOOKING GOOD! – Poveromo is a stickler for a clean, highly-polished boat. He relies exclusively on Star brite boat care products. His main "go to" cleaners include Star brite's Biodegradable Boat Wash, Non-Skid Deck Cleaner with PTEF, Xtreme Clean spray, Vinyl Guard spray, View Guard, Screen Cleaner & Protectant, Boat Guard Speed Detailer (spray on polish), and – for that once a year full protection – Marine Polish with PTEF.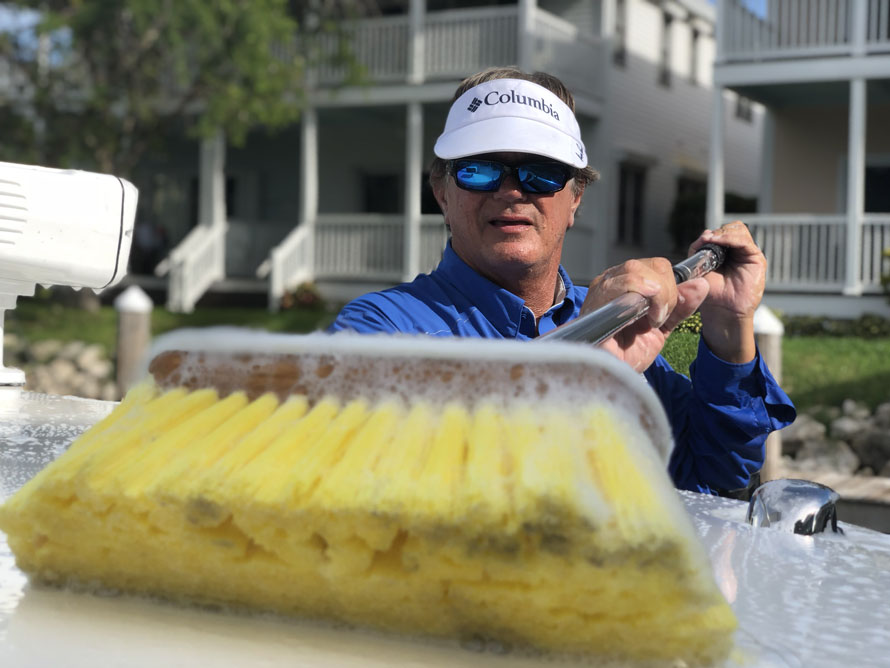 ---
HAULING IN SAFETY AND STYLE - To haul the MARC VI to and from the local ramp, as well as to various coastal cities along the U.S. when shooting for his NBC Sports Network television show, Poveromo relies on a custom-built trailer from the FLOAT-ON Corporation in Vero Beach, Florida. The aluminum, I-Beam, immersible, triple-axle trailer is rated for 16,860 pounds and features a hot-dipped, galvanized torsion axle suspension (a FLOAT-ON exclusive for over 30 years). It is equipped with 16-inch radial tires, hydraulic surge disc brakes with booted bronze pistons and stainless-steel rotors (for increased braking performance and longer life), PVC-covered heavy-aluminum guide rails for centering the boat on the trailer, LED lights, and reflective decals for higher visibility and safer traveling in low light conditions, or at night. FLOAT-ON is an industry leader in the boat trailer business, and the only trailer worthy of carrying the MARC VI.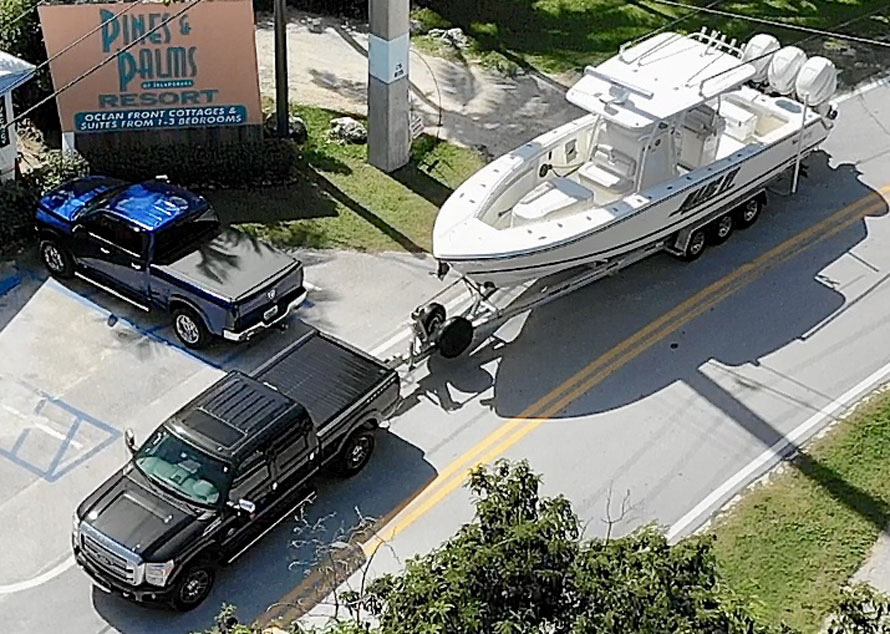 ---
SPECIFICATIONS:

LENGTH........ 33'4"
BEAM.......... 9' 10"
TRANSOM HEIGHT............... 30"
INTERIOR DEPTH............ 34"
MAX. RECOMMENDED HP......... 1050 HP
HULL WEIGHT (approx.)............. 9,000 lbs.
TOTAL WEIGHT (approx. with power, fuel & loaded).......... 14,000 lbs.
FUEL CAPACITY....... 306 Gallons
DEADRISE........ 24 Degrees
DRAFT........ 21"

VALUE OF BOAT (as rigged and including trailer): $ 375,000.00
---
WITH THE HELP OF MY FRIENDS:

The lettering design for the MARC VI is by Image Graphics 2000 Inc. 2450 West Sample Road, Pompano Beach, Florida; 954-425-8199. Wade Davis and team specialize in professional graphics/designs and wraps for both boats and vehicles.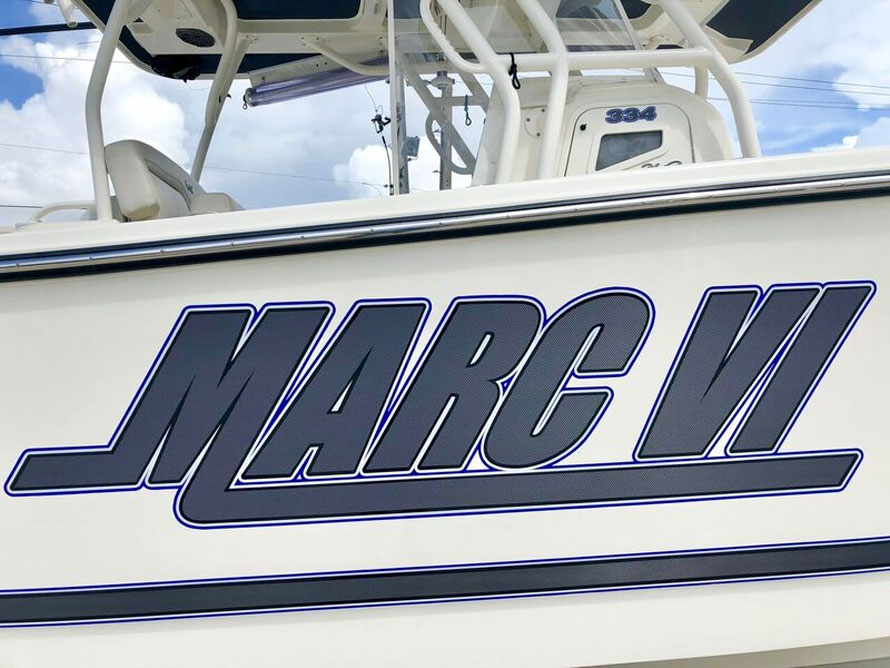 ---
SEADEK MARINE PRODUCTS – SeaDek provides the custom helm pads for Poveromo's Makos. In shock-absorber-like fashion, they cushion the ride and provide extra comfort for the boat operator and passenger.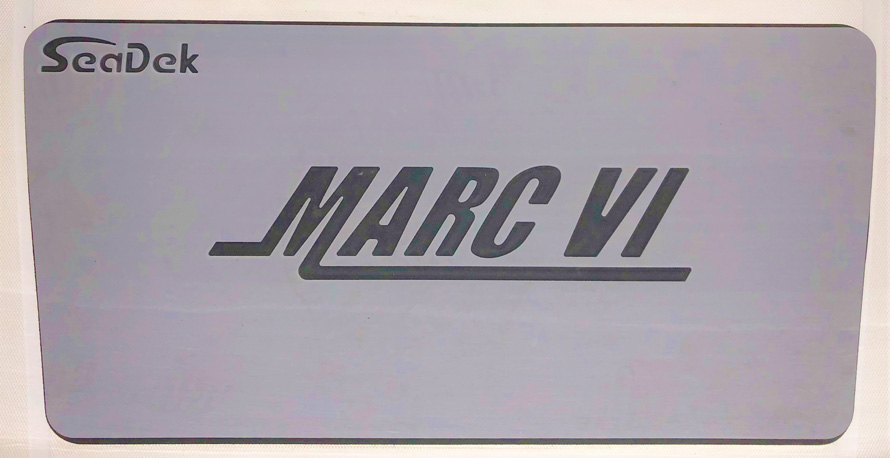 ---
The Mercury outboards on both the MARC VI and SHALLOW-WATER MARC are maintained by Guy Radiano at TNT Custom Marine on Biscayne Boulevard and NE 135th Street in North Miami, Florida, 305-931-3157,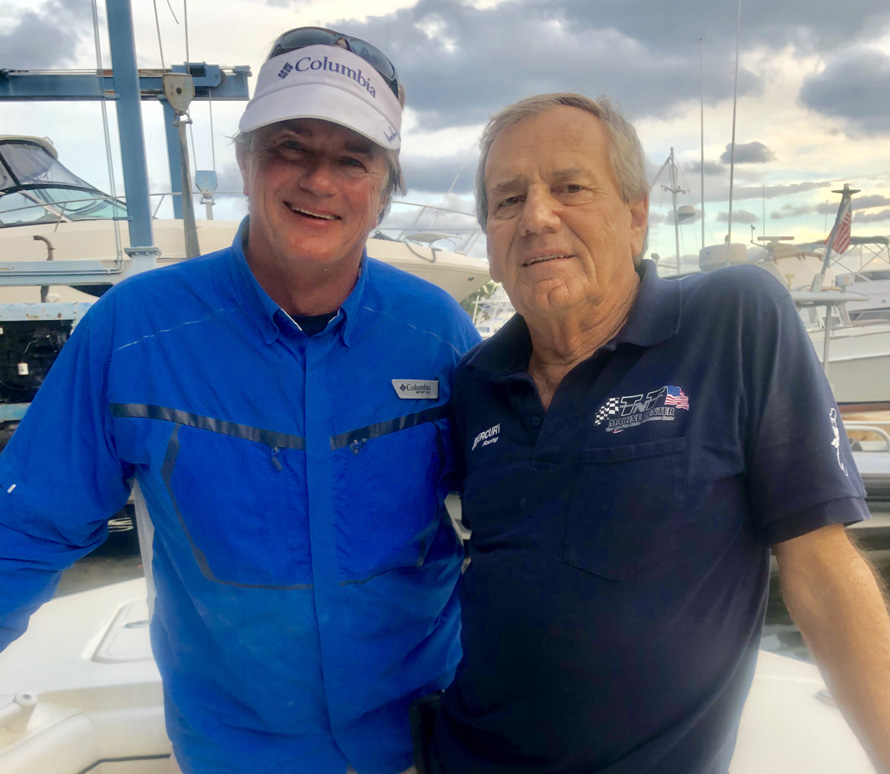 ---
Special thanks to Carl Grassi at Carl's Automotive, 7801 W. Sample Rd., Coral Springs, Florida, 954-755-8799.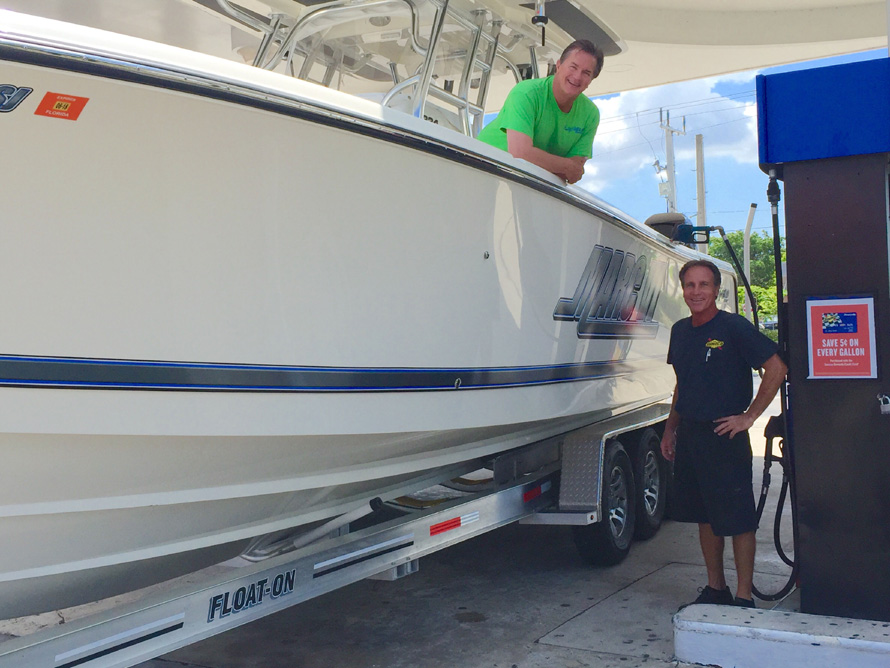 ---
When at rest, Poveromo's MARC VI and SHALLOW-WATER MARC are kept at Garnett Storage in Coral Springs, Florida - 12101 NW 42nd Street, Coral Springs, Florida, 954-753-1930; E-Mail: garnettstorage@aol.com.
---
Drew Caterson at Action Canvas in Marathon, Florida Keys, has done the enclosures and canvas work on Poveromo's boats for decades. There's no one better; 305-481-7606.