SWIMMING WITH THE SWORDFISHES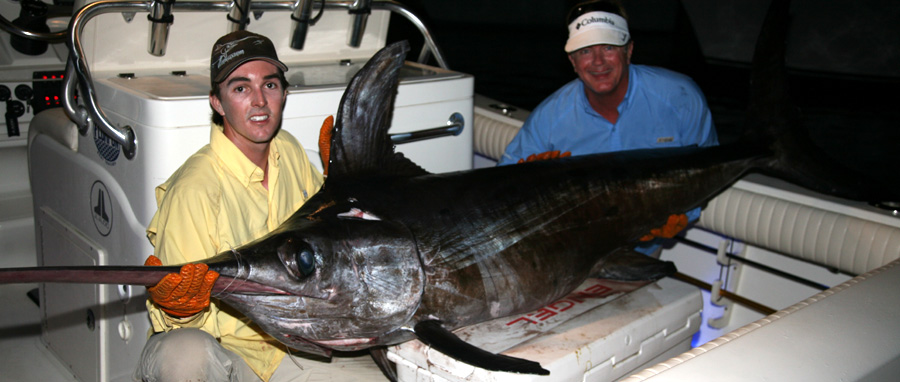 Our swordfish shoot off Islamorada, Florida Keys, in September, 2012, was anything but your typical television production. In fact, looking back, it was the most bizarre and out-of-the-ordinary fishing trip I've experienced to date - and two of us came awfully close to dying. There was certainly nothing normal about it.

I had docked the MARC VI at Bud 'n Mary's Marina in Islamorada, set to shoot a daytime swordfish episode with Nick Stanczyk. The production team consisted of Kevin Tierney, Rob "Swede" Greene, and pal Carl Grassi, who was gracious enough to haul down his 27 foot center console to use as our camera boat.

On our first morning, we grabbed coffees and muffins at Bob's Bunz and arrived at Bud 'n Mary's at 7:00 a.m. Our start was delayed for over an hour, thanks to a large rain squall offshore. Once it dissipated, we began a 40-plus mile run to the swordfish grounds.
My tackle was a Penn International Two-Speed, 80-Wide, matched to a Penn International six-foot stand-up rod with a short bent butt. The reel was filled with 80-pound test Sufix 832 Super Line (braid), with a 150-foot long, 150-pound test monofilament wind-on leader. Our main leaders were ten feet of 300-pound test fluorocarbon, each attached to a 9/0 hook and rigged to a bonito belly, dolphin belly or squid.
We were set to "day drop" to depths approaching 1,500 feet. To promote the sport in this type of fishing – opposed to those commercially fishing with electric reels - I would donn a harness and rod belt and "hand-crank" a swordfish, stand-up style. I've been a proponent of stand-up fishing my entire career, with blue marlin and black marlin approaching 400-pounds, tuna in the lower 200-pound class, and even Mako sharks being some of my most memorable catches via this method. I've even caught swordfish, day and night, with stand-up tackle. So, the Islamorada quest wasn't anything new for me.


AND SO IT BEGINS – At the sword grounds, we were met with light winds, gentle seas and a semi-moderate current. We initiated our first drift by aligning the current and bottom structure, lowering a bonito belly strip bait until it hit bottom 1,500-feet below, and winding up about 20 feet of line (to keep the 11-pound weight from snagging bottom).

Within minutes, we hook a swordfish. I wound tight to the fish, removed the rod from its gunwale holder, clipped into my harness and proceeded to battle what felt like a very heavy fish. A grueling one hour later, I had the swordfish clearly within view – a beauty easily going 200- to 250-pounds! About the time I envisioned this fish in the boat – along with spectacular footage for the show, the hook pulls! ###### ######! How could that happen? The euphoria racing through my body suddenly turned into dejection. We just lost a monster swordfish, and delivered a big blow to this episode.

There was only one thing Nick Stanczyk and I could do: get back on those numbers and try again. I didn't say much during the ten-minute ride back to the spot. After all, how many opportunities with a swordfish, let alone a big one, could one expect – especially when shooting a television episode? Ironically, we were about to find out.

STRIKE TWO! The very next drop, and within two minutes of reaching bottom, the bait gets eaten by another swordfish! I strap up and proceed to fight this one for another hour! Even though I was in another tough, physically-demanding fight, I felt good – confident the odds would favor the hook remaining in this fish.

Nick Stanczyk and I finally caught a glimpse of the sword some 60- to 70-feet away from the boat, and it appeared bigger than the last one! I was now stoked from another rush of adrenaline, knowing we'd soon have an even larger fish for the show! Yet, again, the rod straightened up – another pulled hook. NO! How could this be? Some two hours later of nearly consecutive fighting time, with two quality fish, and we had nothing to show for it, save dejection.

I was livid, knowing we just lost our show with that fish. With swordfish, pulled hooks are common. If you can maintain a 50% success rate, you're doing well. However, that fact wasn't comforting at this point. Also bummed, Nick convinced me to go back to the spot and try again.

HIT THREE – GOING, GOING…… Amazingly, once the bait hit bottom, it was consumed by yet another swordfish! Again, I quickly donned harness and rod belt and settled in for what would be another physically-taxing stand up fight. This fish also felt big!
Like a scene from the movie Ground Hog Day, here I was, with Nick Stanczyk, going through the same rituals with another big swordfish. This fish was tough, determined to slug it out deep. It dug into the current and stubbornly clung near the thermocline; I'd laboriously pump and wind to claim several feet, only to have this fish run off a hundred plus yards of line. Gains were made in small, grueling strides.

DO THE MATH – Adding the hour long fight with the first swordfish to the one-hour long battle with the second swordfish, and then the two-and-a-half hours invested into fighting our third fish, I had been harnessed up and slugging it out with big swordfish going on four-and-a-half hours! This was beginning not to be fun.

Early in my fishing career, and realizing the dangers associated with offshore fishing – especially with stand-up tackle, I had formulated plans to get myself out of any dire predicaments. This was expedited after having a fighting chair collapse with me in it, strapped to 80-pound class gear and a blue marlin. I persevered, thanks to a spotter who clung on to me, and eventually released the marlin, but the situation could have been ugly.

Aboard my boat, when an angler is harnessed to 50-pound class and heavier stand up tackle, I'll designate someone to spot them. Should the angler slip, the spotter will prevent them from unceremoniously exiting the boat. And should the angler lean back into a fish - and the hook pulls, the spotter will prevent the angler from falling backwards into the cockpit and possibly striking their head on the rocket launcher, bait well or cooler. A safety line from the reel to the boat, or from the back of the harness to the boat, takes the place of the spotter when it's just me and another person aboard; if the angler goes over and panics, they can be pulled to safety via the line.

For years, I have rehashed my "escape" routine over-and-over- and-over. Should I ever find myself in the drink, I would be mentally prepared to: 1.) Slowly back off the reel drag; panicking and not doing so, or quickly free spooling and creating a backlash, will enable the fish to pull you down; 2.) Pull the rod to my chest and, once the drag pressure is relieved, unclip and swim out of the harness; and 3.) If step one or two isn't working - cut the line.

WET AND WILD – Nick Stanczyk and I had just exceeded the two-and-a-half hour mark in battling this swordfish, and it wasn't showing signs of conceding. I was thoroughly soaked with perspiration, my light blue shirt now a dark blue because of it. I had been drinking bottles of water throughout the fight, to keep hydrated.

The fish was finally coming somewhat closer to the boat, albeit painstakingly. It seemed to be about 200- to 300-feet away, and I was knees-to-the-coaming-bolster in the aft portside cockpit of my MARC VI. I'm pumping and winding, struggling for a few feet here and there. Suddenly, I see Carl's boat coming around my outboards and in the direction of the fish – and my line!

I panicked, and shouted for Carl to back away. He explained that the camera team wanted footage of our front sides. I reasoned that my fish was out in that direction and I didn't want to risk his boat cutting the line. I then directed him to back up and go around my boat and come in from the bow; the fish wasn't in that zone and the low-hanging afternoon sun would be directly behind them. Carl obliged.

I kept at my fish, aware of Carl slowly motoring around the starboard side of my boat. I caught a glimpse of Carl approaching my bow, about the time I leaned forward to take a turn or two on the reel and gain some more line. At that point, the freak accident occurred; as I was leaning forward to take a crank on the fish, Carl's boat wake lapped against the MARC VI. As gentle as it was, it generated just enough of a snap to throw me off balance; I looked down and my feet were not affixed to the deck – I was going overboard!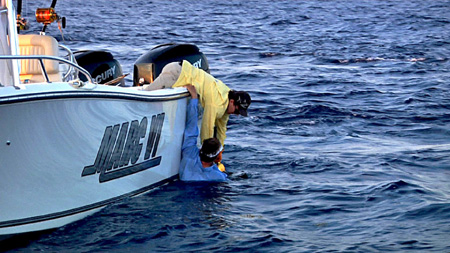 I fell into the water, harnessed to an 80-pound class stand up outfit and a large swordfish. I'll never forget my very first thought as I ended up in the ocean and saw only Gulf Stream blue water: "So, this is how I'm going to die". I was underwater. I then thought: "No it isn't! It's a terrible way to die, and it's not going to happen to me". I then proceeded with my well-thought out emergency plan: I slowly freespooled the reel to prevent a backlash, relieving enough drag pressure to enable me to swim to the surface. Part one of my plan was a success.

However, I then found myself struggling to locate the rod; I needed to pull it to my chest so I could unhook one harness clip and swim out of it. Confused, I reached for and got a firm grip on the gunwale of my boat. The weight of the standup outfit and my totally drenched clothes were working against me; I could only manage to keep my chin and face above water – even with the grip on my boat.

Nick Stanczyk looked like he saw a ghost– his eyes appeared as large as basketballs, and he was clinging to my shirt. Though he was trying his best to aid me, Nick is all of 150-pounds. If anything, I could have taken him overboard with me.


I was still attached to the swordfish, which was now taking line straight down from a reel nearly in full free spool. I then pondered if a Mako shark could be stalking that swordfish, and – if so – how vulnerable I was? I had to get unhooked and out of danger.

My cutting pliers were underneath my rod belt, rendering them useless. I was preparing to let go of the boat, hold my breath and go under to find my rod and unclip from it. If unsuccessful, that would likely be it for me.

Fortunately, I did not have to make the attempt, as show producer Kevin Tierney jumped from the camera boat and swam to my rescue. And, yes, Rob "Swede" Greene kept his camera rolling! With Nick Stanczyk in the boat, and Kevin alongside of me, they discovered what had happened: On my way overboard, my rod got pulled down between my legs, and the reel turned nearly backwards against my stomach. Kevin managed to get his hands between the reel and my body and unhook one harness clip. That's all I needed to exit from the outfit. I was now out of danger.

I passed the rod up to Nick, asking him to advance the drag and see if the fish was still there; it was! I attempted to crawl up into my boat, but my rod belt got stuck on the transom. "What next?", I thought. I undid my belt, tossed it into the boat, and rolled up onto the transom. I took a minute or two to regain my composure, followed by a quick watering of the alligator (I was too scared to pee in the water!). I then got back into the harness and rod belt and proceeded to fight this fish.


OUT OF THE PARK HOME RUN! - After an incident-laden two-and-a-half-hour fight, I go on to battle this swordfish for yet another 30-minutes before it finally comes within view. When Nick asked whether I wanted him to fly gaff or harpoon the sword, I instructed him in no uncertain terms to "Kill this fish the fastest way possible". He readied the harpoon and took his shot, when it was about 15 feet under the boat. I held my breath, silently praying his aim was accurate. It was. When Nick said: "We got him!", total relief spread throughout my body. It was finally over. Three big swordfish and five-hours of fighting time later, we finally got ourselves a real brute of a fish.

The sun was now setting, and we were 40-miles out from Bud 'n Mary's. Now, we had to get this fish into the boat. There was just one slight problem: I was shot, and my arms were like jelly. I couldn't give enough of myself to help Nick haul the fish over the gunwale. So, we eventually succeeded in sliding it through the transom door of my boat. It was time to run home – in the dark! I turned on the navigation lights and headed for the barn.

I was fatigued and still perspiring – even after going overboard. I elected to drive the boat standing alongside the console, letting the cruising air cool me down. I was whipped, but happy. I sipped on an ice cold Budweiser, to not only celebrate the catch, but to help get some carbs back into me while simultaneously numbing some of my sore muscles! I can still see Nick on that dark run back home, frequently spraying down the big swordfish in my cockpit with the raw water wash down hose, and trying to keep ice on it.

VICTORY LANE AND MIDNIGHT CHEESEBURGERS - It was almost 10:00 p.m. when we pulled into a dark Bud 'n Mary's marina and backed in by the weigh scale. This was such a surreal feeling for me; Nick's father and Florida Keys daytime swordfishing pioneer, Richard Stanczyk, was there to greet us. Then came the flashes from still shot cameras and lights from video cameras, as Nick and I offloaded my fish, with help of Carl Grassi. On the scale, it weighed in at 256-pounds!

We then docked the MARC VI. Nick Stanczyk and Carl Grassi cleaned the swordfish, while I washed the tackle and, of course, my boat. Kevin and Rob headed back to the hotel, as it was approaching 11:00 p.m. Nick eventually left, leaving Carl and me to finish up. Talk about swordfish steaks! We had plenty to go around.

More than half-starved, Carl and I struggled to find a place still open for dinner at 11:30 p.m. The Whistle Stop bar was it. We bellied up to the bar, ordered a couple cold and well-deserved beers, and two cheeseburger plates. After a few swigs of brew, and some down time to catch our breath, Carl confided that he thought he was "going to lose his friend today", when he saw me overboard. We relived that crazy and wild day, sharing our perspectives.

The safety tweaks I learned after my swim? 1.) Always use a safety line when harnessed to stand-up gear – even with a spotter (I had them aboard the MARC VI, but opted not to use them in the shoot – and it nearly cost me my life), and 2.) Wear a cutting tool around your neck or affix one to your rod belt, one which will sever braid.

KEVIN'S NUMBER ALMOST COMES UP - With a big swordfish in the can for our show, we agreed to head out the next day to catch some blackfin tuna on the 409 Hump and dolphin to fill out the episode. We did exactly that, but would soon discover we didn't need dolphin or tuna to pad this show. Rob "Swede" Greene came aboard the MARC VI to shoot tight footage of our swordfish rigs and us lowering them to the bottom. Nick reasoned: "Why not do this at the swordfish grounds? We might catch one." I agreed, and we got back on the numbers.

Once the bait reached bottom and Rob said he acquired his footage, we hook yet another swordfish! I go to work and bring up a fish of around 175-pounds, in about 45-minutes. Rob captured amazing footage of the sword. Now, we have two swordfish for our show! Before we release this fish, Kevin Tierney decides he wants underwater footage of it.

Kevin Tierney is highly experienced at shooting fishing television shows, and he knows his species very well; he's an angler himself and scuba diver. I still warned him that he's dealing with a broadbill swordfish, and not a marlin or sailfish. These fish are intelligent, mean and highly aggressive; they know where a problem stems from. Kevin nodded and dove off the camera boat, video cam in hand.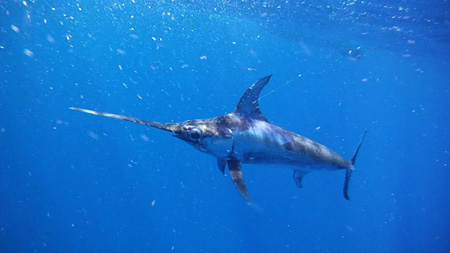 Some 300 feet from our boat, Kevin is in his own world, shooting this swordfish. As I played the sword alongside our boat, it caught a glimpse of Kevin, and charged off in his direction. Nick and I screamed warnings to Kevin. With Kevin in the cross hairs of an agitated swordfish, and me not able to even slow or turn this fish with 80-pound class stand up tackle, we could only hope for the best. About ten feet from Kevin, the fish turns off on a 90-degree angle, and sounds. I instructed Kevin to immediately get out of the water and back on the camera boat.

I played the fish alongside our boat once more. Again, it sees Kevin, who is now even farther away from us, and charges after him. This time, we were all certain Kevin would die. A totally helpless feeling swept our boat and the only thing we could do was scream and shout at Kevin – who already saw the fish coming at him. I couldn't turn or slow the fish. This time, the fish didn't turn. We saw Kevin bounce at the surface. Then, the fish sounded. This couldn't be good. Shouting inquiries on his well-being, and fearing the worst, Kevin quipped: "He doesn't like me!" Relieved Kevin appeared OK, I again told him to get out of the water – immediately!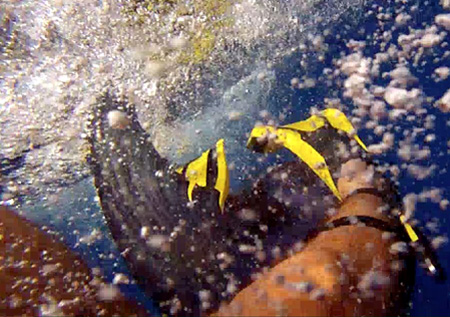 The fish charged one more time, narrowly missing Kevin as Carl pulled him into the camera boat. We played the fish alongside our boat, removed the hook, and turned it free.

Kevin later explained that when the swordfish dialed in on him, he did a back float, to make it harder for it to impale him (less vertical area to hit). Astonishingly, he kept his cool and the video camera rolling, capturing incredible footage of the swordfish's dorsal fin going between his legs. The back of the swordfish had hit Kevin, bouncing him up at the surface. Kevin had the Luck of the Irish with him that day.

We called it a sensational shoot and headed for the barn early. We had two impressive swordfish for our efforts.

THE ENCORE PERFORMANCE – With an awesome show in the can, Kevin and Rob headed for home that evening. Carl and I opted to stay and fish together the next day, in return for his helping out with camera boat duties. Nick had a charter booked the next day as well, but we bummed a few swordfish baits from him.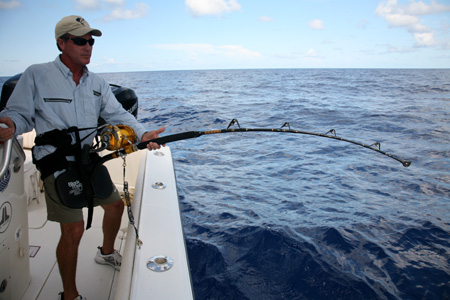 Carl wanted to catch a swordfish, so off we go to the numbers the next morning. We missed our spot on the first drift, so we retrieved the bait, got back on the numbers, and began what would be a perfect drift. And, like the previous two days, we hook up within minutes. Carl takes the rod, as it's his day. The fish comes up rather quickly, leading us to believe it's a small swordfish. Carl asked if he could keep a swordfish over 100-pounds. I agreed.

Carl's sword was now at the surface, but there was something odd; for what we believed to be a small fish, there was a lot of space between the tip of its dorsal fin and tail. Then, the fish realized it was in trouble; it took off on a hard, fast run, and launched every bit of ten feet into the air! Carl and I were in awe of its size, and speechless! It was a monster. The fish leapt completely out of the water three more times, and then sounded. One jump was so close to the boat, it was downright scary.


This fish was in complete control of the fight. Carl maintained pressure, giving no quarter; after all, we were done with the show, so if we got the fish, great! If not, it wouldn't be that big of a deal, outside of the pain of losing such an awesome trophy. About an hour later, the fish rises from the depths, launches into the air, and then sulks near the surface. It then realizes our boat is the source of its problem and proceeds to charge us. With the fish aiming right at my transom, I tell Carl to "Hang on!", and throttle forward. Like a heat seeking missile, the fish dialed in on our prop wash. I go into one big circle, and it's following us! Somewhere during the second lap, it again sounded.

It was an eerie feeling, as the hours clicked on. Carl was hooked up with this huge swordfish, and there wasn't another boat in sight. It came back up and charged our boat again, a carbon copy of what it did earlier. It also launched completely clear of the water a few more times as well. At the five hour mark, I wasn't sure we were going to beat this fish. Somewhere around this time frame, the swordfish came up and charged the boat yet again! This time, it aimed for the bow, forcing me to go hard into reverse; the fish narrowly missed us. I then spun the boat around to keep Carl tight to the monster.

Shy of the seven hour mark, the swordfish launched into the air yet again – for its 10th time, and sounded. It appeared just as strong as when we initially hooked it! In a stalemate, and not able to gain line, I told Carl I was going to move slowly ahead in an attempt to plane up the fish. It worked for a little, and then the fish sounded; Carl couldn't budge it. I told Carl to hang on, as I was now going to attempt to "corkscrew" it up, by making circles around it, while Carl maintained pressure and gained line when he could. This didn't work, as it only aggravated the fish and made it sound even deeper at a more feverish clip.

VICTORY AT SEA! - About 15 minutes after the "corkscrew" maneuver, Carl mentioned that something had changed; he believed the fish had died. He insisted something felt different. We again tried to plane up the fish, eventually finding an angle where Carl gained inches at a time. We kept at it. A good bit later, the line was angling toward the surface. Roughly some 300 feet away, the swordfish pops up – it had gotten tail-wrapped and died!


The sudden glimpse of victory gave us a much needed second wind. I backed down toward the fish, instructing Carl to keep reeling on line and stay tight to it. I kept backing down until I could sink the fly gaff into it (yes, the fish was dead, but after investing seven hours into catching it, I wanted to make absolutely certain it wasn't going anywhere). Carl followed by routing a dock line through its gills and cleating the head to the boat. Carl then added a rope around its tail.

The fight lasted seven hours and spanned 26 miles on the GPS. Somehow, Carl and I managed to boat the fish. It was late afternoon. Once within cell range, Carl phoned Bud 'n Mary's and asked them to keep the forklift operator on duty just a while longer.

Back at the dock, the fish was lifted from the boat and onto the scales: 380-pounds! It was another long evening of cleaning the boat and a swordfish, and icing steaks within a few coolers. Though not nearly as late as the first evening, Carl and I were able to enjoy a celebratory dinner at Wahoo's, at Whale Harbor, before they closed for the night.

Yes, Carl's big fish made it into our swordfish episode, via still images from my camera. This episode, incidentally, was voted by many as the best sport fishing for swordfish program ever seen on national television.

As mentioned earlier, this was a bizarre trip that knew no timelines nor normalcy. Two of us came close to perishing, and Carl Grassi later admitted he was worried while fighting his big swordfish. I inquired why, and he explained that bad things often happen in threes, and he feared he might have been next up at bat.

Ironically, while washing my boat back at its storage facility in Northern Broward County, I noticed there was not a single bill mark or scratch on it, or the name. I would have thought the opposite, after battling three huge swordfish!

I guess our horseshoe was upright after all, on that bizarre fishing trip to Islamorada, in the fabulous Florida Keys.