Dolphin fishing in the Florida Keys is a ritual that can't come fast enough for countless saltwater anglers. During spring and summer, some of the heaviest concentrations of dolphin anywhere migrate past this archipelago. This is the backbone of recreational fishing in the Florida Keys. If you're willing to put in the time and, if required, run far offshore, you just might be rewarded with plenty of action and some tasty fillets.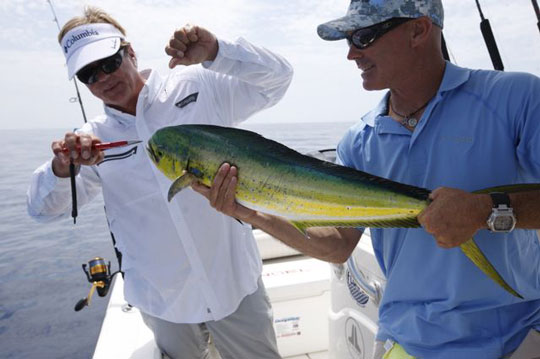 I recently took the family down to the Hawks Cay Resort & Marina, to spend some quality time in the Florida Keys. Of course, I hitched up my Mako 284 center console – MARC VI – to my Yukon XL. After all, if I was going to the Keys, I most certainly was going to get in at least one day of fishing! Our plan was to basically take it easy and play "tourist". We'd stroll through the shops, take in some attractions, and dine out at several famous restaurants. However, on top of my list was guiding Megan, my daughter, to her very first dolphin catch, and providing her with the wonderful experience of seeing the deep, royal blue Gulf Stream and the life thriving within this tropical, northerly flowing river.
DOLPHIN WIN OVER VOTERS! - A recent reader survey conducted by Salt Water Sportsman Magazine ranked dolphin as the most popular offshore game fish. The main reason is that this schooling, tropical species is widespread and accessible to many anglers, including those in small boats.
Dolphin are excellent sport on light tackle, aggressively striking a wide variety of baits and lures. When hooked, they're capable of strong runs, impressive acrobatics, and stubbornly holding deep in a current. Plus, they're fast-growing; a school dolphin can grow as heavy as 30-pounds in one year, providing it has abundant forage.
DOLPHIN WEATHER - The morning of our fishing day was sunny, warm and still. In short, typical Florida Keys dolphin weather! This was perfect, as we didn't have to contend with bumpy seas – very important when your 11-year old daughter is your fishing partner. But I had a decision to make. Reports indicated that dolphin were schooling between 11 and 15 miles offshore. The good news was that the fish were in fairly close. The bad news was that we'd probably have to contend with a lot of boats, once we uncovered a school. I made the decision to run out some 30 miles to find fish, knowing that we would have them all to ourselves – if we were successful.
INSTANT WINNER! - Sure enough, my decision paid off. Just about 30-miles into the run, we came upon a large weedline and working birds. I knew dolphin were around! Rather than get fancy and deploy a six line spread complete with teasers and dredges, I kept it very simple. We trolled four medium ballyhoo, each rigged to a three foot long leader of 100-pound test Sufix Invisiline fluorocarbon, and a 9/0 VMC O'Shaughnessy style hook. We skirted one bait with a small Ilander lure.
Megan drove the boat alongside our weedline, while I put out all four baits. We were trolling around eight miles-per-hour. In less than 15 minutes, all four baits were consumed by dolphin. I pulled the boat into neutral, only to see a huge school of dolphin swarm the boat – and that was in addition to the four hooked fish flipping wildly into the air. It was dolphin mayhem time – and it was just me and Megan!
Two of the four fish hooked on the trolling baits jumped off. I reeled the remaining two in a bit closer, and left them in the water to hold the school for us. I gave Megan an 8-pound class spinning outfit rigged with a 1-ounce, yellow bucktail, and she made her first cast into the school. Within seconds, she hooked up with a nice bull dolphin!
The fish, perhaps around 10-pounds, gave Megan a battle. She endured, and soon I netted her very first dolphin! While I was now thinking about a tasty dinner later than evening, with that beautiful dolphin in the net, Megan had other thoughts. She wanted to release her fish! And that's exactly what we did, in sportsman-like fashion.
TRICKS OF THE TRADE - A basic dolphin trick I adhere to is to have everyone use the same color bucktail, when pitching to school fish. Once the fish grow wise to that one color, have everyone switch over to another color. The simple change to a different hue will reignite their aggression and keep the bite going. Once they tire of that color, switch to yet another hue. Finally, pitch out chunks of ballyhoo and even live bait, when the bite really begins to taper off. During the blitz, occasionally toss over a couple chunks of ballyhoo or several silversides, to sweeten their appetite and restoke their aggression.
DOLPHIN EVERYWHERE! - Megan caught and released many more dolphin. So much so, that her arms were growing weary. It was time to move on. We ran a mile or two, put out four more trolling baits, and got covered up again with dolphin! After this skirmish, I ran even farther away from the fish, before deploying the trolling baits. Some 30-minutes into the troll, a sailfish clobbered the ballyhoo on the starboard outrigger. It took a couple tries, but I hooked the fish and settled in for the fight.
The sailfish took to the air, giving Megan a real thrill. It was a small sailfish, perhaps 35-pounds, but Megan was in awe of its size and fancy acrobatics. I played the fish alongside the boat, where we admired it, and turned it free.
THE VICTORY LAP - My outing was very successful in that I guided Megan to her first dolphin, and showed her what the world looks like well offshore. What's more, the fishing was typical of what one can expect in the Florida Keys during the summer. After all, this is the dolphin fishing capital of the United States.
Our trip proved that you don't necessarily have to dispatch an elaborate bait spread, or burn a ton of fuel running and gunning for dolphin. This was a back to basics trip, where the most important thing was to find an area where the dolphin would likely be. Once in that zone, put out four baits and go on the troll – and let the fish find you! Sometimes simple is indeed better.