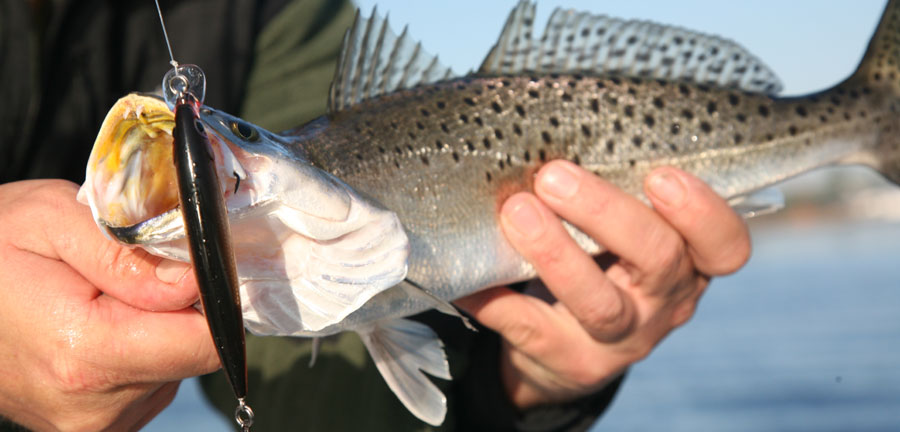 Key Largo in the upper Florida Keys is a noted offshore fishing destination that offers everything from yellowtail snapper to sailfish. I know. I've fished this area of the keys hard for many years.
Yet, there's an entirely different side to Key Largo, one which remains overshadowed by the great offshore fishing here. It's the maze of flats, islands, creeks and channels that comprise the backcountry. It's a place I've always overlooked in my pursuit of offshore game fish. That is, until I met up with a Lyin' Hawaiian by the name of Captain Tony DelosSantos (305-451-1097, www.lyinhawaiian.com).
The backcountry waters of the upper Florida Keys, including Florida Bay and Everglades National Park, are home to Captain Tony DelosSantos. Born in Hawaii and raised in the Florida Keys, Tony has been guiding here for over 18 years; he currently charters from the Marriott Key Largo Beach Bay Resort. Affectionately known as the "Lyin' Hawaiian", Tony is among the very best at finding snook, trout, redfish, tarpon, bonefish, permit and shark in these waters. And that's no tall tale!
WHERE IT IS - Key Largo is the northernmost island in the Florida Keys, and about an hour's drive south of Miami. It is wedged between Everglades National Park to its west and the coral reefs and Gulf Stream to its east. In addition to its fishing, Key Largo is a premier snorkeling and scuba diving destination. Major attractions include the world famous John Pennekamp Coral Reef State Park, and the Key Largo Wild Bird Sanctuary. And as one would expect, there are numerous restaurants and accommodations ranging from quaint motels to exclusive resorts.
We stayed at the Marriott Key Largo Bay Resort at mile marker 104. The property features fitness and spa facilities, a heated pool, private sunning beach, water sports, poolside Tiki Bar and a restaurant. I appreciated its private boat ramp and trailer storage yard, which made it very convenient to launch and retrieve my Shallow-Water MARC, a Mako 2201 Inshore skiff .
LET THE GAMES BEGIN - Our adventure began with a long run from Key Largo to Flamingo. Out here, Tony and I explored two main creeks and caught redfish and snook. Our goal was to start deep in Flamingo, and then run-and-gun for fish back to Key Largo. The highlight of the Flamingo leg was a Goliath grouper we saw tailing tight against the mangroves, and Tony's attempt to catch it on 8-pound class spin tackle.
Against all odds, Tony flipped a live pinfish to the grouper, and we both watched the fish turn and eat the bait. Tony set up and had the grouper momentarily off balance. Our hope of getting that grouper away from the mangroves was short lived, however, as it hit the after burner and raced through the maze of mangrove roots. Mud was flying, mangrove branches were shaking and Tony was struggling to beat this fish. Unfortunately, the fish fond a pocket deep inside the mangroves and broke the light line. We did, however, enjoy a couple minutes of intense action before the line parted.
TIME FOR TROUT - Our next stop was over a large grass bed some 12 miles from Key Largo. We idled upwind of the flat, and let the Shallow-Water MARC drift back over the beds.
In my book, nothing beats a top water plug for seatrout. That's because I love the way they hammer the plug. I fished a walk-the-dog style top water lure, and imparted a nervous side-to-side action. The lure was attached to a few feet of 30-pound test Sufix InvisiLine fluorocarbon leader. I was using a small Penn spinner reel filled with 20-pound test Sufix Performance Braid, and a matching 7' Penn rod rated for 8- to 17-pound test lines. Tony used a similar outfit, but with a float and scented artificial shrimp bait.
The trout bite was "on", as he and I caught fish on virtually every cast, proving that Key Largo does indeed have a great sea trout fishery. Although most of our trout averaged around a pound, Tony insisted there are much larger ones here. He would prove that in a big fashion later that day.
I did manage a couple of two pound-class fish on the top water plugs. We racked our rods and continued on our journey.
THE "SECRET" CREEK - Closer to Key Largo, and with the right tide and wind direction, Tony took us up into a very shallow creek. We shut the Merc outboard, and used our trolling motor to navigate way back into the mangrove-lined maze. Once we approached the part of the creek that began to narrow, we activated the Power Pole and staked the boat out. Tony and I were set to drift live baits back up the creek.
Our live-bait set-up consisted of size 4/0, in-line, VMC Tournament Circle Hooks. A loop knot was used to join the hook to three feet of 30-pound test Sufix Invisiline fluorocarbon leader. Because we were pitching baits under the mangroves, and desired a highly abrasion-resistant, no-stretch line to muscle these fish out, we used 20-pound test Sufix Performance Braid.
Tony drifted back his bait. Some 40 feet later, it was picked off by a fish. Tony set the hook, prompting the fish to run off several yards of line. No doubt, it was good size fish. My initial thinking had it either a small Goliath grouper or snook. But when I caught a glimpse of a big sea trout, I freaked out! I scrambled for the landing net, then nervously waited on Tony to lead the fish alongside the boat. I slipped the net under the fish, and we had our trophy sea trout – a whopping five pounder, which we released!
I was next to score. I felt a "thump" and then reeled tight to set the circle hook. Initially, I felt just weight, as the fish was coming to the boat without much of a fight. I thought it might have been another sizeable trout, but was pleasantly shocked to see a 30-pound class tarpon swim to the boat. Suddenly, the fish realized it was hooked. It went airborne several times, before making a long, blazing run down and underneath the mangrove overhangs. I squatted down and held my rod parallel to the water, to keep the line from contacting the mangroves.
The fish shot away from the mangroves and took to the air in the middle of the creek. This was a tough fish, and I wasn't so sure I was going to beat it – given its runs tight up against the mangroves. However, I kept the pressure on and eventually lead the fish to Tony, who made the "catch" official. We quickly removed the circle hook from the top lip of the tarpon, admired it briefly, and set it free!
Tony's secret "creek" yielded two light tackle trophy fish. Before we left, we scored a small Goliath grouper, and had a final look around at the beautiful scenery. I hated to leave, but the tide was turning and it was late in the afternoon. Our running-and-gunning mission in the backcountry waters off Key Largo had come to a very successful close.
After all this action, I reminisced about all the offshore trips I've done off Key Largo, and how I totally neglected the beautiful and bountiful backcountry that's off its western shore. I also made a promise that I would return here very soon, and focus my efforts in the backcountry. With the fish that Captain Tony DelosSantos put us on, along with the pristine and beautiful backcountry scenery, how could I not opt for an "encore performance?"