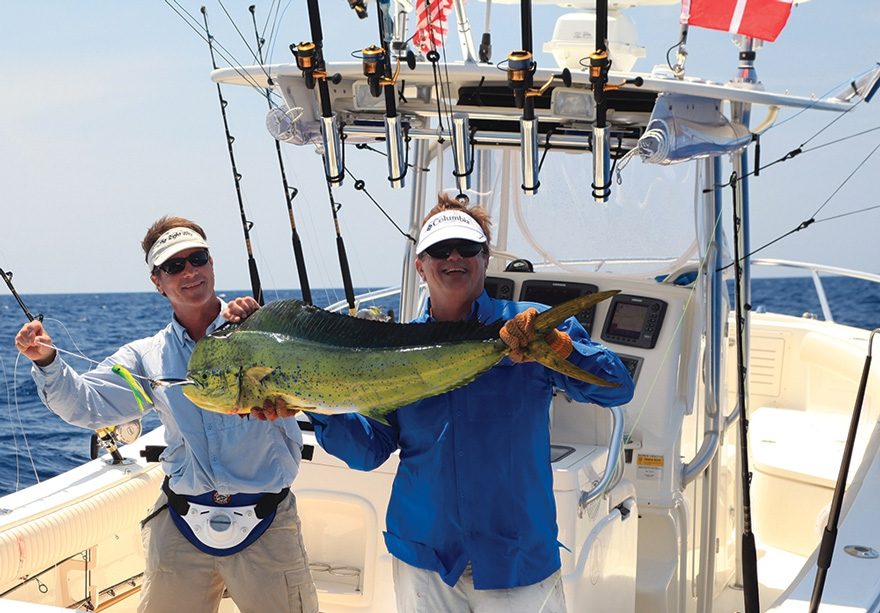 [The Abaco island chain lies at the northern end of the Bahamas island nation, and offers a wealth of both inshore and offshore ­opportunities. Green Turtle Cay sits among the eastern barrier islands about two-thirds of the way up the chain, in proximity to many differing saltwater habitats.]
The sudden hole in the sea, where the center 'rigger bait had been, got our attention. Before I could shout "Big fish!" 50-pound monofilament melted off the reel. Within seconds, a lit-up blue marlin tail-walked across the ocean. Carl Grassi grabbed the rod and I slowed the MARC VI, retrieved the other lines and teasers, and kept Grassi taut to his fish. As we closed to within 50 feet, the fish hunkered down at the surface. I grabbed the leader to make the catch, then throttled forward with the autopilot, and Grassi fought the fish alongside for the release. It was 2:30 p.m. on our first day of fishing, and our trip had already been made.
We were 34 miles offshore of Green Turtle, over the Great Abaco Canyon, and in addition to the blue marlin, we scored dolphin and an 11-pound tripletail that day.
Shallow History
The day prior, we had run 180 miles from Palm Beach Inlet to the Green Turtle Club Resort and Marina. I've visited Green Turtle several times for some of the largest bonefish in the Bahamas. From the white-sand flats off New Plymouth to a couple of rocky, ocean-side cays, there's usually a sheltered place to find them here. Legendary Abaco bonefish guide Ronnie Sawyer has put me onto numerous big fish in the area, and even a 15-pound mutton snapper on the flats, but I'd promised myself to someday return to Green Turtle and fish the lightly pressured offshore waters.
Offshore Delights