One of Key West's top light-tackle attractions is the blackfin tuna that bird-dog the shrimp boats in the Gulf of Mexico. During March, April and May, jumbo blackfins are likely to be found schooling behind any shrimp boats culling their catch, which provide reliable feeding stations for them. Add in schools of bonito, which the tuna compete with for food, and you have the components for some explosive, non-stop action.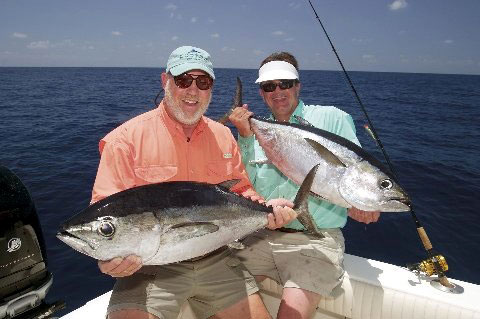 As good as this fishing can be, however, it is extremely weather dependent. That's because locating the shrimp boats often requires a run well up into the Gulf on a northwesterly heading from Key West. Sometimes shrimpers can be as close in as 15 miles, or as far out as 60 miles or more. The shallow, gradually-descending Gulf bottom yields a short-spaced sea when the wind's blowing, and generally a tough, not-so-fun boat ride!
ON THE TRAIL OF A SHRIMPER - Yet the excitement of catching big tuna on baitcasting gear and topwater lures was enough of an incentive for me to trailer my 28-foot Mako, "MARC VI", down to Key West. From my home in northern Broward County, it was about a three-hour haul. I had done this type of fishing many times, and know first hand how good it could be.
Fortunately, the weather couldn't have been nicer. The sky was blue and the winds light. I throttled up my twin 300hp Mercury Verado outboards to 5,000 rpms and speed off into the Gulf to search for shrimp boats. Riding shotgun was good friend and noted light tackle guide Captain Mark Schmidt (305-797-4032). Mark specializes in everything from fly-fishing for tarpon, permit and bonefish on the flats, to light-tackle fishing for cobia, kingfish, tuna, grouper and snapper, dolphin and wahoo in the Atlantic and Gulf. He's one of the best guides in Key West.
One item that helps tremendously in locating shrimp boats is a radar. On my unit, we spotted a pair of boats, and headed for them. Right at 57 miles out from Key West, we came upon a shrimper culling its catch in blue water. I edged up to its transom and Mark Schmidt swapped the crew a couple six packs of beer for two bushels of shrimp boat "trash" – which is the assorted finfish and crustaceans that comprise the bycatch after the shrimpers haul their nets, and precisely what these fish are feeding on. After acquiring the chum, I backed up ten feet, shifted the MARC VI into neutral and began our drift.
Mark pitched a scoop of chum into the water and, almost instantly, rallied schools of small sharks, "bonito" (little tunny) and blackfin tuna into a wild feeding orgy that lasted until we were out of chum – some three hours later!
TUNA THE HARD WAY - Catching tuna on bait when they're chummed up is a no-brainer. However, catching them on lures can be quite challenging, and that's what Mark Schmidt and I had planned on. We used Penn International 975 CLSD baitcasting reels spooled with 20-pound test Sufix Performance Braid, and floating and sinking lures.
We decided to use a braided fishing line over monofilament, reasoning that it wouldn't part if a hooked fish dragged the line across the backs of other members in the school. Sometimes these schools contain over 100 fish, and there's no way to avoid such contact.
Getting the fish to eat lures requires some thought. The two biggest factors in fooling them are to select a lure that closely resembles the chum mix in terms of size and color, and knowing when to use either a floating or sinking version. For example, during my trip, if most of the chum we dispatched remained at the surface – typical of finfish, we used a floating minnow-style of lure. If most of the chum sank – typical of crustaceans, we pitched a sinking, suspending style of plug.
The trick is to make the lures seem like they're part of the chum mix, and not "work" them. Mark and I would simply cast out the lures with a scoop of chum, and freespool them so they'd drift or sink at the same rate as the chum. As long as most of the chum remained near the surface, our floating plugs disappeared during the explosive blackfin ambushes. When most of the chum descended down through the water, and we let our sinking plugs float down at the same rate, they were picked off.
The other "secret" is to use a light fluorocarbon leader. Blackfins have keen eyesight and will avoid striking a bait or lure when they can see the leader. Fluorocarbon, incidentally, has a refractive index that is nearly identical to that of water. Therefore, the material tends to blend in within the environment and avoid detection. We used three foot long leaders made of 25-pound test Sufix InvisiLine Fluorocarbon.
DON'T BE LATE TO THIS PARTY - Blackfins are most aggressive early in the morning, when the shrimpers are culling their catch. As often happens after the culling is done and the mid morning sun ascends higher in the sky, the blackfins retreat deeper into the water column and away from the shrimp boats. To catch the fish as they begin retreating into the depths, try dispensing some of the sinking chum and freelining your bait out a few hundred feet or so. Adding a small split shot weight to the fishing line will help it sink, and may prove beneficial.
Blackfin tuna run big during the spring. Mark and I caught plenty of fish between 25 and 32 pounds. Although we released most of them, we did ice down a few fish to take home; Blackfin tuna is excellent grilled or served as sushi.
To watch schools of blackfin tuna muscle through packs of bonito and beat the water's surface into a froth as they devour chum – right alongside your boat - is a sight no angler ever grows tired of, no matter how many times they've been in this situation. And for those who haven't experienced this, you had best get down to Key West this spring and give it a try. It will be a fishing adventure you soon won't forget!